<![if !vml]>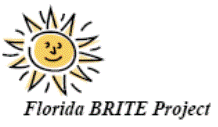 <![endif]>
BRief Intervention and Treatment for Elders
Funded by the SAMHSA/Center for Substance Abuse Treatment SBIRT Initiative (2006-2011)
Mission
The mission of the Florida BRITE Project was to serve individuals 55 years and older to identify non-dependent substance use or prescription medication issues and to provide effective service strategies prior to their need for more extensive or specialized substance abuse treatment. BRITE implemented the Screening, Brief Intervention, and Referral to Treatment (SBIRT) initiative of the SAMHSA Center for Substance Abuse Treatment (CSAT).  BRITE was the only project funded by an SBIRT grant to specifically focus on an older adult population.
History:  The Pilot Project
The SAMHSA/CSAT grant award was built on the success of a three-year pilot project from 2004-2007 funded by the Florida Department of Children and Families Substance Abuse Program Office (DCF/SAPO) and conducted in four Florida counties. Provider agencies offered in-home screenings and services, focusing on brief intervention for alcohol, illicit substances, and prescription and over-the-counter medications. Results published in the American Journal of Public Health (Schonfeld et al. 2010) describe 3,497 screenings, demonstrating statistically significant reductions in use of alcohol, medications, and illicit drugs, as well as reduced symptoms of depression.
In late 2006, Florida was awarded a $14 million CSAT grant to focus on providing services within primary and emergency health care settings, public health clinics, elder homes, and aging services. Dr. Robert Hazlett, who had previously worked on Pennsylvania's SBIRT project developed the protocols that allowed BRITE to shift from a pilot project to the requirements for the federal grant.
In the SBIRT grant, BRITE clients were served by one of four categories of service providers receiving contracts from DCF:  healthcare providers (urgent care centers, trauma hospitals, emergency departments, and VA facilities), aging services, mental health services, and substance abuse treatment services. Over the five year grant, a total of 30 provider agencies in 18 counties conducted 85,001 screenings in over 70 different locations. Also, in 2010, under separate funding from the Florida Department of Children and Families, BRITE services were expanded to include adults under age 55 at federally qualified health centers (FQHCs) in Orlando, Ft. Lauderdale, and Pensacola, resulting in an additional 6,000 screenings. Although the grant ended on September 14, 2011, several sites have continued to implement a modified version of the SBIRT model. Published results from the five-year SBIRT grant are available at:
Schonfeld, L. Hazlett, R.W., Hedgecock, D.K., Duchene, D.M., Burns, L.V., and Gum, A.M. (2014). Screening, Brief Intervention, and Referral to Treatment for older adults with substance misuse. American Journal of Public Health. e-View Ahead of Print. DOI: 10.2105/AJPH.2013.301859
Locations
The Florida BRITE Project provider agencies were headquartered in the sites represented by the red stars in the map below. Cumulatively, these agencies screened in more than 70 different locations including hospitals, urgent care centers, trauma centers, aging services, health fairs, and numerous other locations.
<![if !vml]>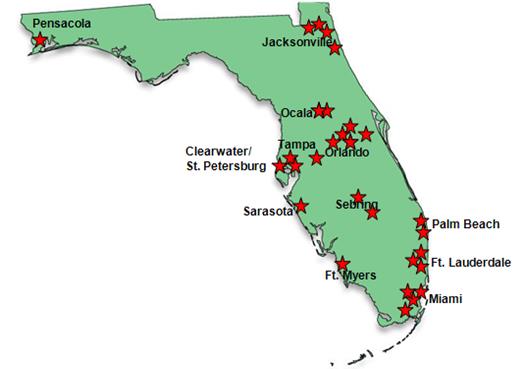 <![endif]>
BRITE Sites included:
Lakeview Center, Inc. Baptist Hospital Emergency Room, Pensacola
Urban Jacksonville/Shands Jacksonville Medical Center - Level I Trauma Center
Urban Jacksonville Aging Services
Shands Jacksonville Level 1 Trauma Center
Shands Ambulatory Care Center
Lake Regional Urgent Care - Leesburg
Lake Regional Urgent Care – The Villages
The Center For Drug Free Living Inc.  (Orange County, Osceola County)
Aloma Urgent Care
Clermont Walk-In Clinic
Longwood Walk-In Clinic
Florida Hospital Heartland Division Sebring – Emergency Department
Florida Hospital Heartland - Lake Placid
Winter Haven Hospital
Jackson Memorial Hospital (Miami)
Jackson North Community Mental Health Center (Miami)
Catholic Charities of the Archdiocese of Miami
Miami Veterans Health Care System - Bruce W. Carter VA Medical Center
Coastal Behavioral Healthcare, Inc.  (Sarasota area)
Gulf Coast Jewish Family Services
Centre for Women
Drug Abuse Comprehensive Coordinating Office, Inc.
Palm Beach County Division of Senior Services
Hanley Center- Lakeside Hospital (West Palm Beach)
Broward County Elderly and Veterans Services Division (2 sites)
Broward County VA Outpatient Center (Miami VA Healthcare System)
Southwest Florida Addiction Services
The Florida BRITE Project – Resources
Required CSAT GPRA Instruments:  https://www.samhsa.gov/grants/gpra-measurement-tools/csat-gpra
In addition to the GPRA instrument, the Florida BRITE Project collected prescreening, screening, and assessment data and offered educational materials developed by Dr. Hazlett. These are as follows.
----------------------------------------
Procedures for Initiating and Sustaining the Florida BRITE Project
Authored by Robert W. Hazlett, Ph.D, CAC, CCS
Florida BRITE Project "Business Process Analysis" – This is a guide for BRITE providers to use to obtain information about a clinic or hospital unit's operating routine. It guides the BRITE team's effort to design a protocol to implement BRITE in a specific setting, while being sensitive to the workflow and logistical support issues of that particular setting.
Florida BRITE Project "Initial Training Manual" – this manual provides training to site personnel for screening of potential substance use, abuse and dependence disorders in a hospital, primary care or clinic setting and how to apply brief intervention strategies matched to the patient's severity of use/abuse of alcohol and other drugs (AOD).
Florida BRITE Project "Sustainability Manual" – This is a guide to understanding what is involved in the process of developing a sustainability plan for SBIRT services even after federal grant funding ends. It is a framework that allows for flexibility and change in your agency's local environment, and that considers elements that may impact that environment.
Assessment Instruments and Educational Materials for BRITE
Some materials are in the public domain and available from CSAT and other instruments were developed for BRITE by Dr. Robert Hazlett.
Screening Instruments
Required instruments available from CSAT or the World Health Organization (WHO0 -

 

Florida BRITE Providers may download the following items from either the respective websites:
Educational Materials
<![if !supportLists]>1. <![endif]>BRITE Health Promotion Workbook (English)
<![if !supportLists]>2. <![endif]>BRITE Health Promotion Workbook (Spanish)
<![if !supportLists]>3. <![endif]>Brief Intervention for Problematic Use:  Guidelines for Use in Primary Care (from World Health Organization)
Substance Abuse Relapse Prevention for Older Adults (from SAMHA/CSAT 2005).
In the News:  Information about the Florida BRITE Project
OLDER AMERICANS BEHAVIORAL HEALTH Issue Brief: Series Overview - The Substance Abuse and Mental Health Services Administration (SAMHSA) and U.S. Administration on Aging (AoA) partnered to develop this 2012 Issue Brief to address behavioral health issues for older Americans. SAMHSA and AoA included BRITE in its listing of evidence-based and evidence-informed programs and practices for older adult behavioral health. These programs have been scientifically studied and have been shown to improve the health and functioning of older adults.
For information about BRITE, please contact:
Larry Schonfeld, Ph.D., Professor Emeritus, Dept. of Mental Health Law & Policy, Florida Mental Health Institute, University of South Florida, Tampa, FL 33612 email: schonfel @usf. edu